Recycling has become a theme for Sara Abbott with her recent body of "Ink Paintings".   Being environmentally conscious and not wanting to dispose the inks she elected to re-purpose her waste ink with the idea she would eventually want to incorporate it into her abstract paintings and stored the syrupy material which was beautifully saturated in color.
The process began by pouring ink onto a white canvas and gradually adding paint thinner along with other materials to create very organic shapes.  The pouring process takes weeks and months, as the ink layers take very long to dry.  Some of the more heavily poured pieces take up to 7 months to completely dry.   
As Sara continued with the series, she incorporated color ink cartridges  – in doing so these works were given the CMYK theme.  This idea relates back to the colors of the ink cartridges in the printers from her other work (cyan – magenta – yellow – black) while continuing to include the waste tank ink. 
Sara Abbott (b. 1972 Portland, OR) 
 Sara Abbott graduated with a degree in photography in Arizona and has studied and worked in art studios in Phoenix and Los Angeles with emerging and established artists.  She became a founding member of 3carpileup, a well renowned studio/gallery and Chaos Theory, a momentous annual group show.  This helped pioneer the now vibrant art scene found in the warehouse district in downtown Phoenix. 
 She works in both the fine art and commercial worlds.  Her fine art has been in museum exhibitions and galleries nationally and collected by many private and corporate collectors.  Commercially she has had success working across the world with top designers and has been represented in the television and movie industries. 
Relocating to Los Angeles to immerse herself in one of the most prolific art communities in the world, Abbott became committed to combining traditionally separate disciplines such as photography, painting and sculpture.  She began a strong focus on large bodies of work that include the Modern Space series.  These abstract paintings have been described as multicolored geometric shapes that have an unmistakable midcentury vibe.  Her mixed media photography and light box installations incorporate urban street influences such as a 1930's suicide car door involving layers of imagery and light.  
Abbott is currently working on 3 bodies of work.  Large text paintings, "Isn't It All About Me", that reflect on the trappings of vanity and the glossy vibrations of self-absorption. Along with the series "sasse, classe, fun en masse", which merges broad vibrant brush strokes combined with her photographic pop imagery.  And her abstract "Ink Painting" series that incorporates waste tank ink from printers, with interpretations of recycling and promoting a green environment. 
Sara lives and works in Santa Monica, California.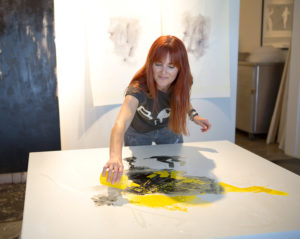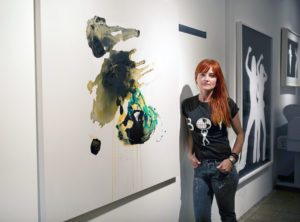 SARA ABBOTT CV
Museum Exhibitions
2006 Biennial Southwest, Albuquerque Museum of Art, Albuquerque, New Mexico , September-January, Juror: Neal Benezre, Director, San Francisco Museum of Modern Art
2003 Arizona Biennial, Tucson, Arizona, April-August, Juror: Toby Kamps, Curator, Museum of Contemporary Art San Diego
Reviews and Publications
2011 Luxe Magazine, Los Angeles, On The Avenue, Winter Volume 9, feature.
2007 Desert Living, Paint the Town, by Peter J. Wolf, April, feature article.
2005 Direct Art Magazine, Volume 12, Fall/Winter.
2003 Arizona Republic, Downtown Stalwart Steps Up in Art Circles, by John Villani, August, feature article. Shade Magazine, Body of Work, by Joshua Rose, August/September, review. New Times, Mother of All Shows, March, review.
2001 Elle Magazine, City Women to Watch, by Andrea Todd, April, feature article.
2000 Phoenix Magazine, Brushed Off, by Lori K. Baker, November, feature article. Arizona Republic, Art Beat of the City, by John Villani, November, feature article. New Times, Crash Course, September, feature article. Phoenix Downtown Magazine, Ya Gotta Have Art, by Forrest Martin, September, review.
"Black #2"

48" x 48" Waste Ink, Ink and Mixed Media on Canvas

"Cyan"

48" x 48" Waste Ink, Ink and Mixed Media on Canvas

"Magenta"

48" x 48" Waste Ink, Ink and Mixed Media on Canvas

"Yellow"

48" x 48" Waste Ink, Ink and Mixed Media on Canvas

"Black #1"

48" x 48" Waste Ink, Ink and Mixed Media on Canvas

"CMYK Series 2 - CYAN"

24" x 18" Waste Ink, Ink and Mixed Media on Canvas

"CMYK Series 2 - Magenta"

24" x 18" Waste Ink, Ink and Mixed Media on Canvas

"CMYK Series 2 - Yellow"

24" x 18" Waste Ink, Ink and Mixed Media on Canvas

"CMYK Series 2 - Key (Black)"

24" x 18" Waste Ink, Ink and Mixed Media on Canvas